All-in-One Joschi Yogathletics Sports & Yoga Towel + FREE Ebook. NEW Anchor-Fit Corners, Non Slip, No Bunching, 100% Durable, Lightweight Microfiber, Ultra Absorbent. #1 for Yoga, Pilates, Fitness, Travel & Beach. Try RISK FREE!
Order TODAY! Click Here NOW!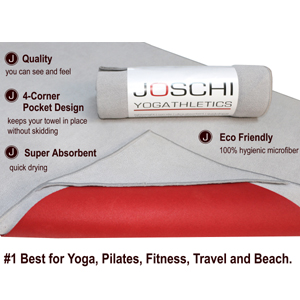 Joschi Yogathletics is about living it.
We live and breathe fitness & yoga and are all about creating an opportunity-filled lifestyle.
Joschi Yogathletics Yoga Towel Specs:
– Anchor-Fit 4 Corner Pockets: Designed to promise no bunching
– Material: Soft, ultra-absorbent, lightweight, moisture wicking hygienic microfiber for extreme durability
– Weight/Thickness & Size: 1.08lbs/380gsm, 24″ x 72″ – large enough to cover most yoga mats


Ever feel like you're sweating buckets during your hot yoga, Pilates or regular workout class? Joschi will put your mind at ease. Each towel comes in premium microfiber designed to absorb and wick away sweat. Engineered to provide a slip free grip, especially when you are sweating. Simply stretch it over your yoga mat to create a soft, comfortable surface. Our new anchor-fit 4 corner pocket design keeps your towel in place without skidding. The more you sweat, the more grippy the towel gets!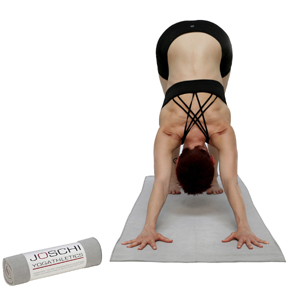 Ever go to the beach and wonder where to put your valuables? Our 4 corner pockets are perfect to hide your phone or wallet.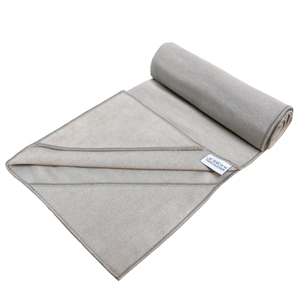 Protection from Harmful Germs
Are you tired of lugging around your heavy, bulky mat? Just pack your lightweight Yoga Towel instead and use it to add a safe, hygienic layer between you and the mat provided by the studio or gym. With the quick drying, ultra-absorbent microfiber fabric you never have to worry about slippery mats or bacteria on your skin.
Easy to care for:
Simply machine wash and tumble dry on low heat.
Joschi Yogathletics Yoga Towel comes with a LIFETIME GUARANTEE with absolutely no risk to you, so you can order with confidence.
Even Comes with a Bonus eBook!
As soon as you order, you'll receive a FREE PDF e-Book. A short, practical guide on ‪meditation.
Order TODAY! Click Here NOW!