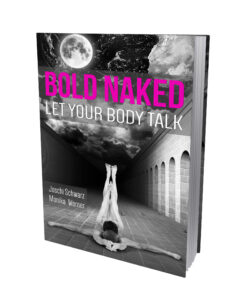 BOLD NAKED – LET YOUR BODY TALK
If you want to have more purpose and meaning in your life, achieve as much as you can, make a difference and leave a mark on the world even in a small way, BOLD NAKED – LET YOUR BODY TALK is for you.
We took what we've learned over the past couple of decades and put it together for you to make your path to success a little bit easier.
Through the practice of Naked Yoga we begin the journey towards changing the layers that are holding us back, shred the clutter that's inhibiting us on the outside and strip off all the programming that is clogging up our ability to think freely, embrace our world and find love and peace with a stress free mind and a happy body. We start by taking control at the lowest, physiological level and eventually catapult ourselves into being in control of ourselves at the highest possible level.
Reading BOLD NAKED – LET YOUR BODY TALK gives you the possibility to be an emotional rock star, feel what you want to feel, think what you want to think and behave in a manner that you know will make your life the most successful and happy it can be.
IN BOLD NAKED – LET YOUR BODY TALK YOU WILL LEARN ABOUT:
Naked Yoga: A Tool of Transformation
The Psychology and Neuroscience of Naked Yoga
Yoga & PhysiologyEmotions
Feelings
ThoughtsBehavior
Achieving Your Goals to Live the Life of Your Dreams
Additional Pictures and Appendix with Most Beneficial Naked Yoga Poses for a Balanced Life

ORDER YOUR COPY TODAY AS A PAPER BACK OR KINDLE EDITION ON AMAZON:
https://www.amazon.com/dp/B071J2CQGH


YOU CAN ALSO DOWNLOAD IT DIRECTLY HERE: